In this post, we will discuss with you how to prepare and pass the Microsoft Azure AZ-500 Exam (Microsoft Azure Security Engineer Technologies) successfully.
The topics covered in this blog are:
AZ-500 Exam Overview
The Azure Security Technologies exam (AZ-500) is an associate-level exam that is highly focused on the Security aspect of Azure services. The exam is designed to confirm that you can manage and deploy identity and access controls, threat prevention and security controls, and data and application protection in the cloud and hybrid environments as part of end-to-end security enablement.
The AZ-500 exam requires fundamental knowledge of IT security concepts and a decent awareness of most Azure solutions as it focuses on the candidate's ability to identify and patch vulnerabilities using numerous security tools on the cloud.
Are you new to Azure Cloud? Do check out our blog post on the Microsoft Azure Certification Path and choose the best certification for you.
Why Take Up AZ-500 Exam?
If you are already working under security profiles, you might be seeking to gain a chance to enhance your standards. So, this certification is for you. As a student you will master skills like:
Develop and improve the skills needed to use security controls.
Investigate and identify solutions enforcing different security techniques accessible in the event of a vulnerability.
Execute and carry out the security posture and control for the things under your control.
Understand how to use numerous security technologies accessible for each application.
Exercise the threat protection and execute them.
Finally, you will be able to manage and react to security escalation.
Who Can Do This Certification?
If you want to understand more about Security, Identity, and Encryption in Azure cloud services.
If you want to improve your security expertise and learn more about cloud workload security effectively.
If you work in administration or software development and want to move into the security domain.
Benefits of AZ-500 Certification
Learning numerous security tools, particularly within a single exam track, is quite advantageous to gain knowledge as well as experience. The security engineer certified by Microsoft Azure will be distinct from most of the other common pros who haven't taken up the exam. They will be able to appraise more of the security tools available and apply it to regular security risks and flaws compared to non-exam takers.
Furthermore, professionals that pursue Microsoft Azure security certification have a greater probability of obtaining and retaining better work prospects than non-certified professionals who fall into the AZ-500 exam takers class. Candidates who pass the AZ-500 exam have a greater influence and brunt in the workplace, putting them in a better position to take on more challenging security responsibilities.
A candidate who has been certified in Microsoft Azure security technologies can avail a variety of specific features like:
Gain comprehensive knowledge and grasp of networking and controls.
Deep-rooted understanding of the different Microsoft Azure and its numerous services offered.
Inherent knowledge about virtualization and cloud N-tier architecture appear to be significant in various modern-day apps.
Access Azure and other Microsoft products with ease and implement safeguards.
AZ-500 Exam Details
| | |
| --- | --- |
| Exam AZ-500: Microsoft Azure Security Technologies | |
| Multiple Choice Examination | |
| | Eligibility/Pre-Requisite |
| | English, Japanese, Korean, and Simplified Chinese |
AZ-500 Exam Skills Measured
| | |
| --- | --- |
| Manage identity and access | |
| Implement platform protection | |
| Manage security operations | |
| Secure data and applications | |
AZ-500 Sample Question Types
Some of the types of questions that might be asked are listed below:
Single choice scenario-based questions.
Multiple-choice questions.
Case studies with many questions
Arrange in proper order type questions
Single choice questions (without scenario)
How to Register for Azure AZ 500 Exam
You can register for the Microsoft Azure Security Technologies Exam (AZ-500) by going to the official Microsoft page.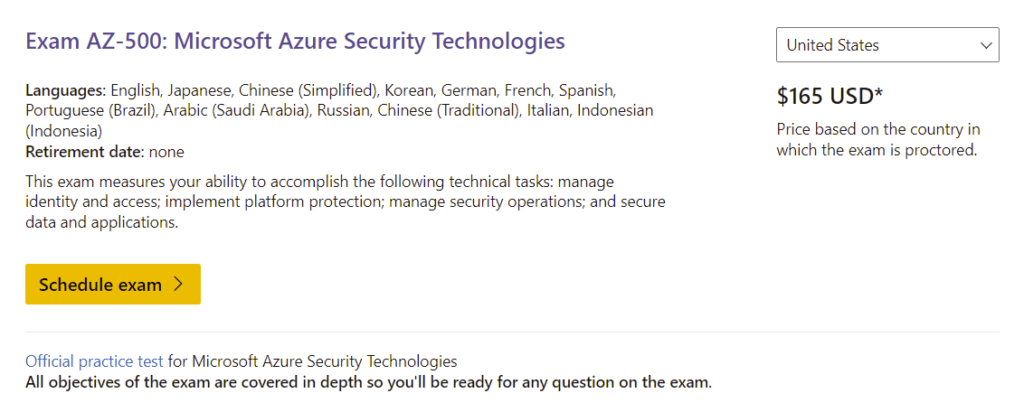 Check Out: ADF Interview Questions
Pre-requisites for AZ-500 Certification
If you're thinking of taking this Azure Security Technologies certification, make certain to pass one of these tests before you start, as it will give you sufficient exposure to Azure services and offerings:
AZ 500 Study Guide
Manage Identity and Access (30-35%)
Manage Azure Active Directory Identities
Configure Secure Access by Using Azure AD
Manage Application Access
Manage Access Control
Implement Platform Protection (15-20%)
Implement Advanced Network Security
Configure Advanced Security for Compute
Manage Security Operations (25-30%)
Monitor Security by Using Azure Monitor
Monitor Security by Using Azure Security Center
Monitor Security by Using Azure Sentinel
Configure Security Policies
Secure Data and Applications (20-25%)
Configure Security for Storage
Configure Security for Databases
Configure and Manage Key Vault
AZ-500 Exam Retake Policy
The AZ-500 exam retake policy is as follows:
If a candidate fails on the first attempt, they must wait for 24 hours before retaking the exam.
If a candidate again fails on the second attempt, then the candidate will have to wait for 14 days.
A candidate will be given a maximum of five attempts to retake an exam in a year.
AZ 500 Exam Day Tips
Below are some of my suggestions for the exam and some pointers that might be useful.
Learn the basics of Azure using the Exams AZ-104 as well as AZ-900 to gain a better understanding of the Azure services offered and Azure products.
If this is your first time taking the Virtual Exam, be sure to review the PearsonVUE exam guidelines to make sure that your workspace and desk are tidy prior to taking the exam.
There is a whiteboard where you can think of ideas for the exam. It's been the least utilized option of the exam for me personally.
Make use of this Exam Outline to write down the dates you want to complete each section and module to ensure you stay on the right track. For instance, I typically choose a date for my final exam and then work backward to figure out the time I've spent on each section or module.
Conclusion
In this Azure tutorial, we discussed AZ-500 Exam Overview, Who Can Do This Certification, benefits, Exam Details, Study Guide, and much more.
I hope you enjoyed this article!!!
FAQs
Q1. How long is az500 valid for?
AZ-500: Azure Security Engineer Associate Certification will remain valid for one year.
Q2. How long is the AZ-500 exam?
AZ-500 exam is 140 minutes long.
Q3. How many questions are there in the AZ-500 exam?
The Azure Security Engineer Associate AZ-500 exam has 40-60 questions.
Q4. What is the passing score for AZ-500?
The passing score for the Microsoft AZ-500 exam is 700 out of 1000 marks.
Q5. How much does AZ 500 cost?
The AZ-500 exam costs $165 USD.
Q6. How much does AZ 500 certification pay?
The average salary of an Azure Security Engineer AZ-500 can vary based on several factors such as location, industry, years of experience, and job role. However, according to data from various job search websites, the average salary for an Azure Security Engineer is around $120,000 per year in the United States.
Related/References