Azure Security Center is a security management system that provides unified security management across hybrid cloud workloads. Azure Security Center protects data centers from threats in both cloud and on-premises workloads. The platform is also compatible with hybrid clouds outside of the Azure environment.
The topics covered in this blog are:
What is Azure security center?
Azure Security Center is a unique and thorough security management system offered by Microsoft to all Azure users. Those who use the service can rest assured knowing that their cloud storage and IT infrastructure are safe and healthy, meaning their data stays private and ready for whenever they need it.
The benefits of using Azure Security Centre are:
Azure Support gives you visibility and control over the security of your resources (like Virtual Machines, cloud services, virtual networks, and blob storage) in Azure. Check out their Security services to ensure the safety of your mission-critical data stored in the Cloud.
They protect hybrid workloads in Azure and non-Azure environments on customer data center premises.
Strengthen and cleanse your security space. The Azure Security Center analyzes the strength and cleanliness of the cloud environment to understand the safety and health of resources.
They are detecting and eliminating cyber security threats. Azure Security Center provides a single dashboard for customers to see the dangers, as well as their recommended actions. It also helps with regulatory compliance because Azure's security policies can be streamlined across all of your services from one place.

Azure Security documentation shows that the Microsoft Azure Security infrastructure operates under a shared security responsibility model. It means security is a joint effort between Azure and the customers except in an on-premise setting where the customers carry all the responsibilities.
However, as we move into the Cloud, some Azure customer security responsibilities are transferred to Azure – whether that's by accepting features or benefits such as availability of 99.9% or better up-time, encryption via BitLocker, or deciding how much redundancy to implement with geo-redundant services to ensure availability in case component failure occurs at one site but not another.
Azure secures and controls the physical infrastructure, thus effectively offering you extra protection compared to similar public platforms. In other words, Microsoft handles IT security concerns better than Tesla and Google do because they are using a closed forum that they can more thoroughly secure. Whether it's on-premise, IaaS, PaaS, or SaaS, customers have three main areas to be concerned about: data governance, account and access management, and endpoint protection.
Also Check: ADF Interview Questions
Azure Security Centre Threat Detection
Azure Security Center no longer stops letting you secure workloads running in Azure, and this service can now also be used to connect your other cloud environments. Protecting infrastructure spread over various locations is an integral part of security management. Because so many companies have already outsourced their resources to the Cloud, this means that threats no longer necessarily come from within domestic borders! This is why it's so important to know where all of your valuable data is located and what kind of sensitive information is being processed alongside it whenever you're conducting security audits on a regularly-scheduled basis.
Azure Security Centre Alerts
Defender for Cloud generates alerts in your cloud environments. These have been triggered by advanced service detections and are available only with enhanced security features enabled. As described in Quickstart, one can upgrade from your environment settings page: Enable enhanced security features. Alternatively, a 30-day trial is available. Defender for Cloud uses innovative alert correlation to display a single alert rather than listing each one individually.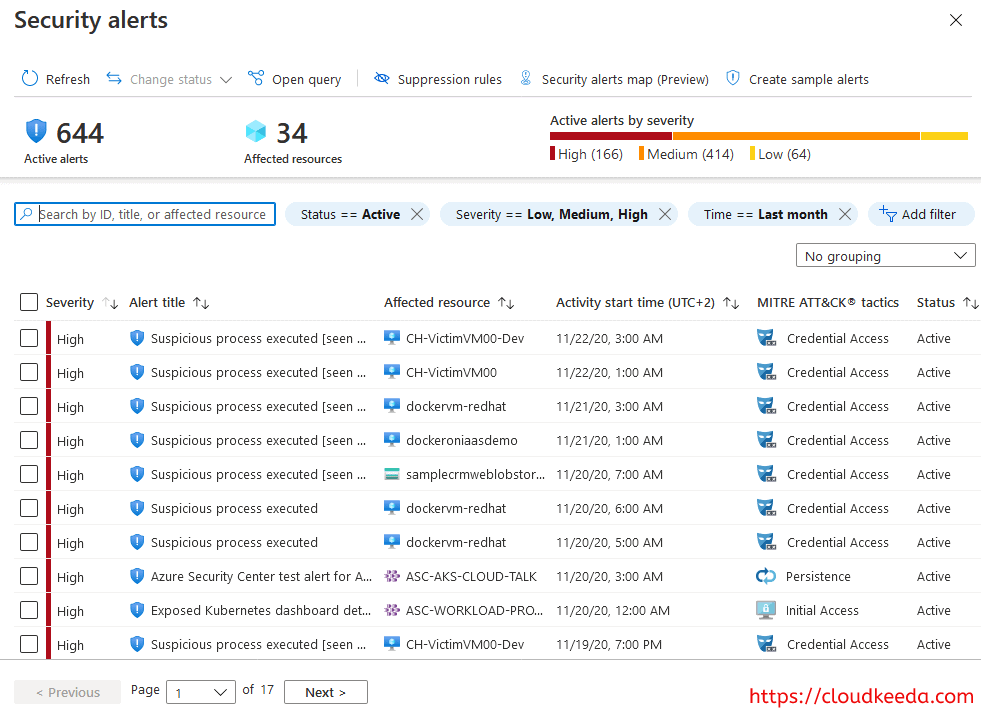 One of the most significant issues with careful correlation is that it shows the signals represented in any malicious security incident in their raw form. If another person tried to review this type of alert, they would need to independently verify that it is indeed part of a security incident.
Also Read: Our blog post on Azure Certification Path
Azure security center default policy
Microsoft's Azure Policy is a cloud management platform that imposes restrictions on specific Microsoft systems. It acts as a "middle man" that establishes rules about your data, including security conditions, network and storage management, privacy, data protection, and compliance. Azure supports built-in definitions for controlling resource types and enforcing tags on all resources. You can also create custom policy definitions to manage specific aspects of your Azure account.
To implement these policy definitions (whether built-in or custom), you should assign them. Policies can be assigned either through the Azure portal, PowerShell or CLI. You can enable or disable them via the Azure Portal.
Azure Policy offers several types of policies, including audit and enforcement. Auditing policies are used to check for different conditions and configurations—they report on compliance. Enforce policies can apply secure settings, such as disabling serial console access to certain parts of a VM in Azure using App Consoles.
Read More: About Azure Data Factory.
Azure security center login
Defender is a product Microsoft offers that provides cloud security. They focus on protecting your hybrid and multi-cloud workloads in the areas of unified security management, threat protection, and memory scanning. Depending on your subscription plan, they offer a selection of features that caters to all types of businesses looking for more than just introductory security provisions (both free and paid). Defender's significant benefit over companies like McAfee or Symantec is that it supports on-premises and other clouds, not just Azure. Defender helps you save money versus purchasing these services from individual vendors by offering its comprehensive suite of products at much lower prices when combined with an Azure subscription.
Azure Security Centre Export Report
Microsoft's new Security Center team has released an integrated report that gives customers the ability to track compliance status over time. It is valuable as it enables managers and workers to continually monitor how close they are to achieving a compliant environment. The Compliance Over Time workbook requires data to be sent to a Log Analytics workspace.
The steps are:
From Security Center's sidebar, navigate to the Pricing & settings page.
Select the unique data export configuration on behalf of each subscription. Make sure to navigate this alternative and intuitive space before going to the changelog link in the direction of your right-click context menu and access UI settings.
From the settings page of that subscription, select Continuous Export.
Enable the Export to Log Analytics option. Change the sample data it uses.
Select the following data types: Regulatory compliance (Preview).
From the export frequency options, select Streaming and Scheduled Snapshots.
Select Save.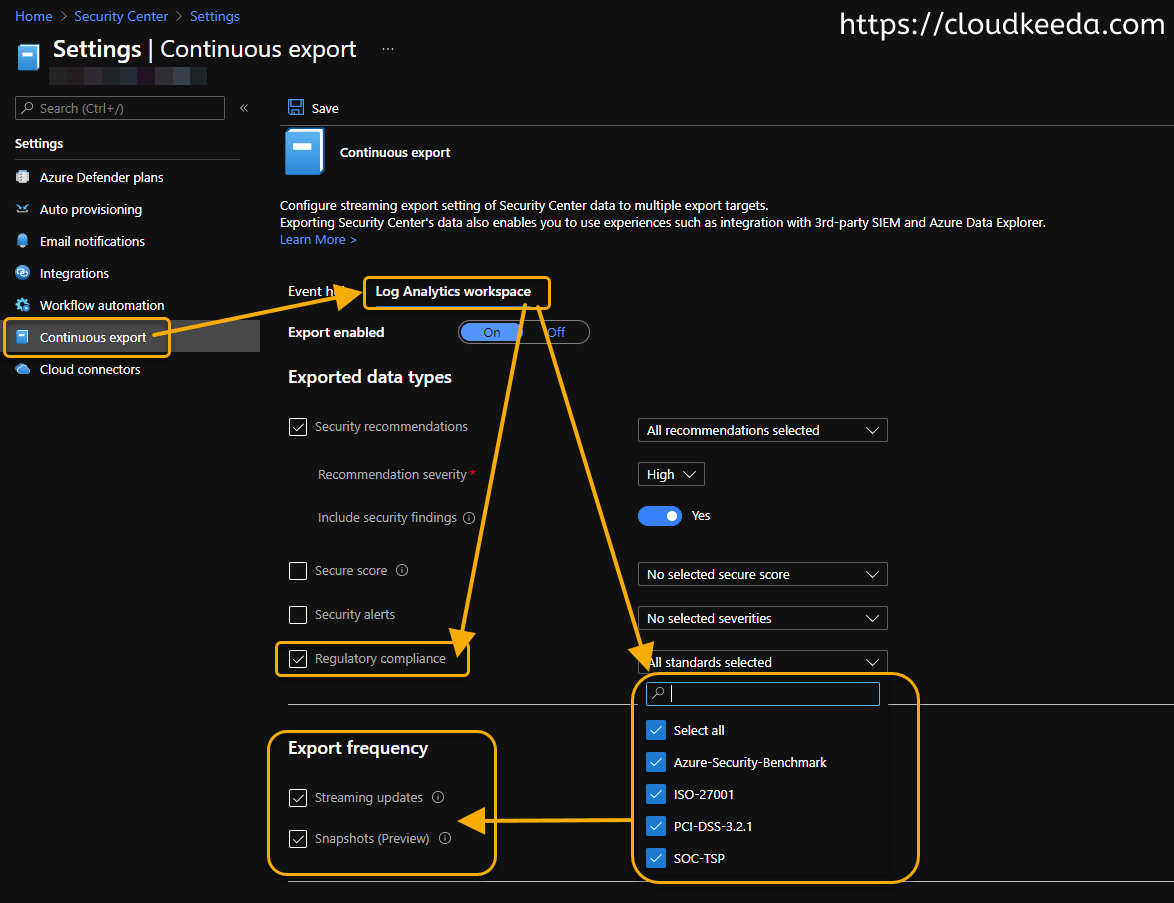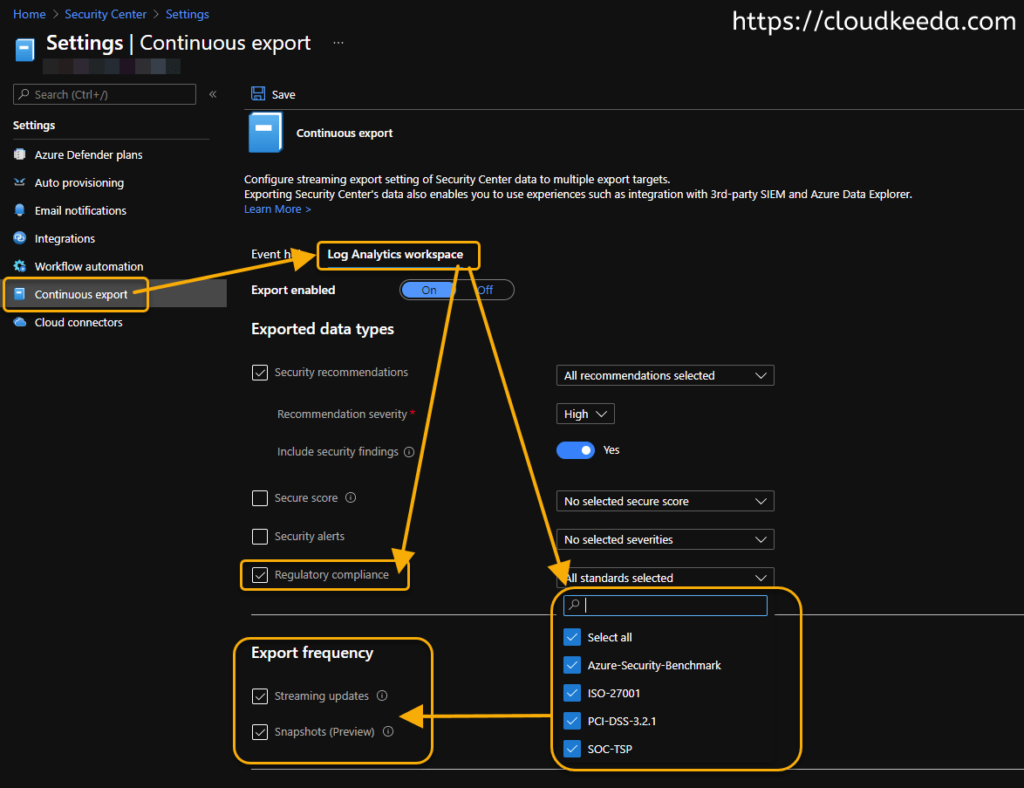 Also Read: Our blog post on Azure Bastion
Azure security center features
Azure Security Center was designed to help your company stay on top when it comes to protecting all devices, servers, and applications under your umbrella. The different services that make up Azure Security Center each play their part in keeping everything secure, from device management (Azure Advanced Threat Protection) to threat detection, response, and threat protection for apps and websites (Azure Security Center).
Secure Center can identify and protect against threats at the IaaS layer and PaaS environments, like Azure. It also offers cross-cloud protection with non-Azure virtual machines across your networks.
The tool features forensics capabilities enabling your team to investigate how and where an attack originated, how it evolved to spread across your network, and how the attack affected your resources. Security Center integrates natively with Microsoft Defender Advanced Threat Protection to protect your Windows and Linux machines automatically.
You can automate application control policies on server environments to get adaptive application controls and thus take advantage of end-to-end app approval listing across your Windows servers. The entire process is automated, so you need not create rules and check for violations.
Azure Security Centre Pricing
Azure Security Suite comes with two different pricing options. Free provides standardized tools for continuous security assessment, while Standard provides advanced threat management tools like behavioral analytics, machine learning, robust data encryption algorithms, and more.
Check Out: Official Pricing Document
Conclusion
Azure Secure Center is appropriate for both small and big companies. The Azure Security Center is intended to address a serious issue that arises when your company migrates to the cloud. It is a unique security management solution that enables your IT security team to detect and analyze threats and odd activity while deconstructing the whole history and consequences of a cyber-attack.
Related/References