Microsoft Azure Free Account offers USD 200 credits in your Azure account for 30 days. You can utilize any service for the next 30 days at USD 200. Apart from that, it offers some popular services free for 12 months and more than 25 services free for a lifetime.
In this post, I am going to cover a step-by-step guide on how to register for Azure Free Trial Account.
Let's have a quick look at the agenda:
Prerequisites to Create a Free Trial Account
You must have a credit card, a phone number, and an email address (optional, you can create a new one also).
If you are a student and you do not have a credit card, you should have a valid college student Email ID. You can register using a student email ID from Microsoft Azure for Students
Steps to Register for Azure Free Trial Account
There are straightforward steps to register for Azure Free Account. Let's begin with the registration process.
Step 1) Visit the Azure Home Page.
Step 2) Click on Free Account as shown in the image.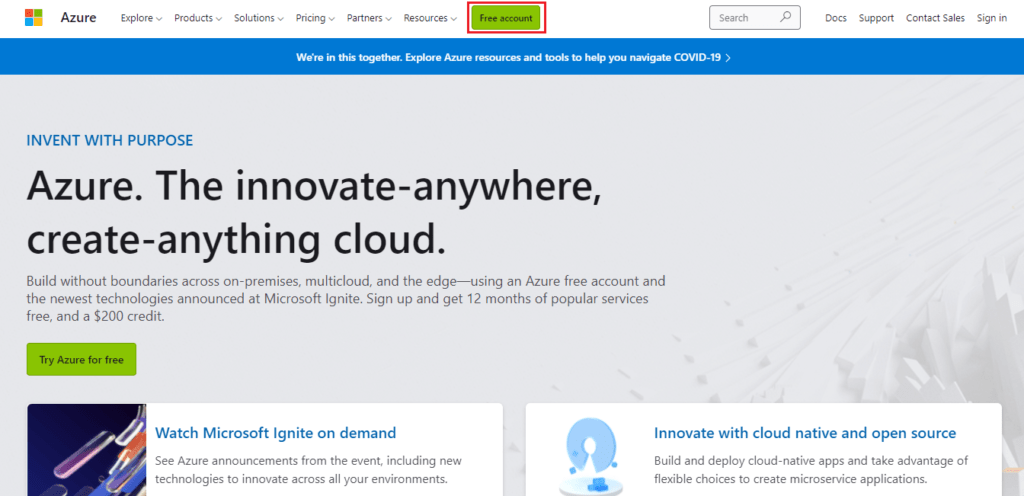 Step 3) Click on Start Free.
Step 4) Sign in using an email address or create a new one.
Step 5) Now enter the following details.
Country/Region
Your Name
Email Address
Mobile Number
And verify the mobile number
After the verification process, enter the organization name (you can type any name).
Now accept the terms and conditions. Click on Next.
Enter your Credit card details. Make sure you have a VISA/Master Credit Card with international payments enabled.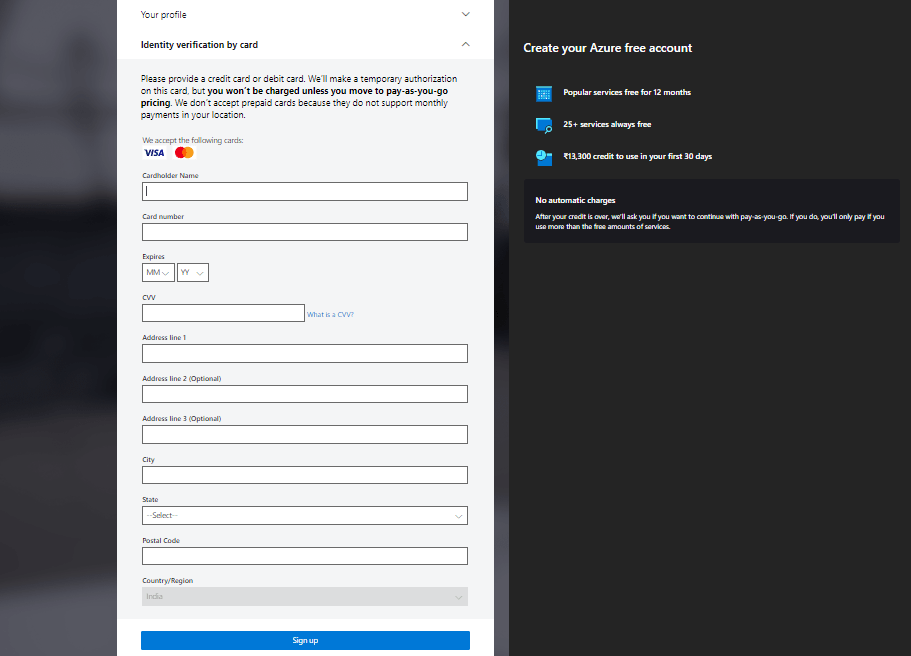 Step 6) Now Click on Sign up.
There you go, you have successfully created a Microsoft Azure Free Account with USD200 credits. Click on the portal on the top right corner and now you can use Azure Portal.
Note: If you are done with your free credit amount of USD200, you can opt for the pay-as-you-go subscription. You will be charged based on the services you will use.
Note: You can only create one free trial account using a single credit card. If you are a student, you can register using your college valid email id.
Check Out: Azure Certification Path in 2023
Steps to Cancel your Azure Subscription
Alright! Now if you decide somehow to cancel your Microsoft Azure Account Subscription. Here are the steps to follow:
Step 1) Go to the Azure portal account.
Step 2) Select your subscription and click on cancel subscription.
Step 3) Confirm the subscription and click on cancel subscription.
List of Services Free For 12 Months
Here is the list of services that are free for 12 months.
List of Services that are Always Free
There are many services offered by Microsoft Azure that you can use freely without paying even a single penny. Here is the list of those services.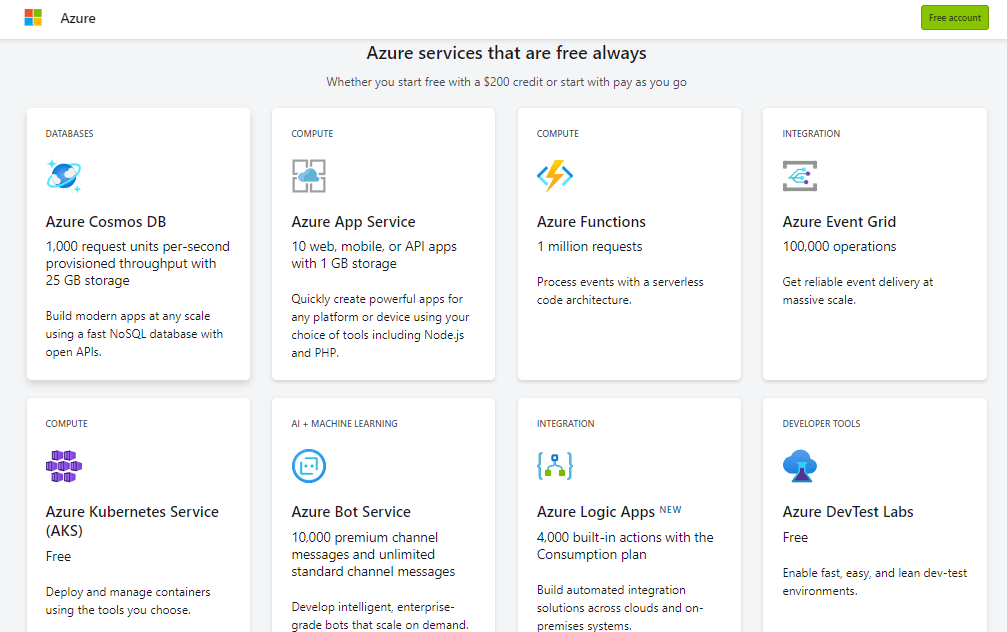 How to monitor Azure Free Usage Tier?
There are simple steps to monitor the usage of Azure Free Tier Account.
Step 1) Go to your Azure Portal by signing in.
Step 2) Search for the subscription that you have opted for.
Step 3) Select your subscription which you created during sign-up.
Step 4) Scroll down a bit to search for the table showing free service usage.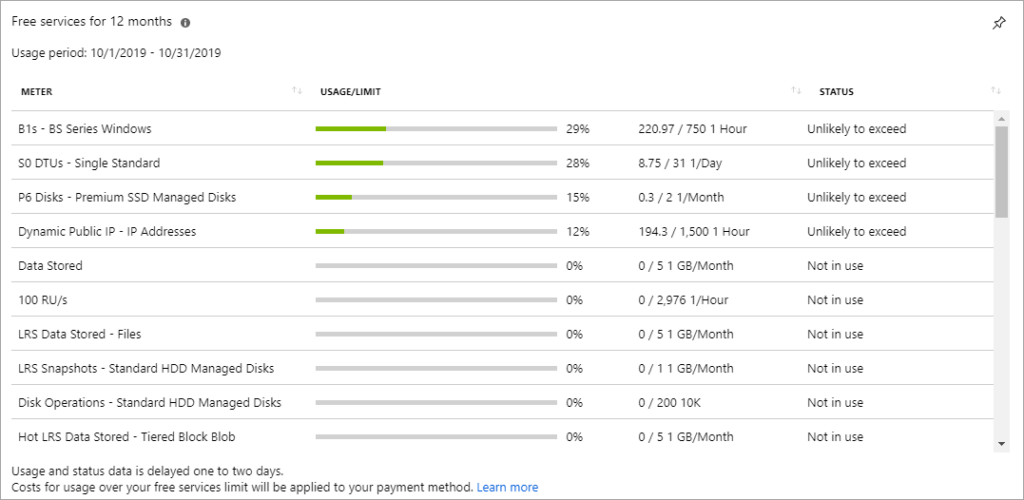 The above table consists of the following columns:
Meter: Identifies the unit of measure for the service being consumed. It shows how many units of measure you have consumed out of a particular service.
Usage/Limit: It shows the limit for the meter and the current month's usage.
Status: It displays the usage status of the service. As per your usage, you can have the following statutes:

Not in use: It displays that you haven't used the meter or the meter usage hasn't reached the billing system yet.
Exceeded on <Date>: It shows that you have exceeded the limit for the meter on <Date>.
Unlikely to Exceed: You have sufficient resources and there is least possibility that you will exceed your limits.
Exceeds on <Date>: It means you will likely exceed the limits on <Date>
What to do when the Azure Free Tier Account time is over?
When you sign up for Azure Free Account, you will be getting a $200 credit limit within the first 30 days. Let's say you used more than 750 hours of Linux VM's, you can consume your $200 to compensate for your overages if that 750 hours limit is exceeded within 30 days. After 30 days, if you wish to continue, you need to switch to a pay-as-you-go account.
Note:
Unused credits out of $200 cannot be reused and transferred to any other subscription. Your $200 credits will be expired on day 30.
If you consume all your credits within 30 days of signing up, you need to upgrade to a Pay-as-you-go subscription to continue using paid services.
Frequently Asked Questions
Q1. Is Azure Free for Lifetime?
Ans: No, the Azure account is not free for a lifetime. There are approximately 25 services that are free for a lifetime. But you need to get a subscription from Azure to utilize essential services from Microsoft Azure. Only a thirty days trial is given with USD200. Once the trial limit is exhausted, you need to pay for whatever services you will use.
Q2 Can we cancel the Azure Free Tier subscription when it is exhausted?
Ans: Yes definitely. You can cancel the azure subscription anytime. You can refer to the steps given above in this blog to follow the cancellation process.
Q3. Does Azure portal Free Trial can be reused using a single credit card?
Ans: No, you cannot consume Azure Portal Free Trial twice using a single credit card. It only allows one Azure account free trial per credit card.
Conclusion
I hope this blog was helpful for you as a beginner. If you are just starting your journey with Azure cloud, you can register for a free trial account to practice things. Make sure you delete the instances and services after using them. Otherwise, you will be charged for those services and your free trial limit will be exhausted. Yes, if you are a student you can use your college email id as well for an Azure free account.
Related/References